Wodehouse wrote two main series of stories.
One is about Bertie Woosters life and adventures and his Butler, the unique Jeeves. (Please note that Jeeves is a valet, not servant, or even worse, a butler, a common error when Jeeves is mentioned in different contexts.)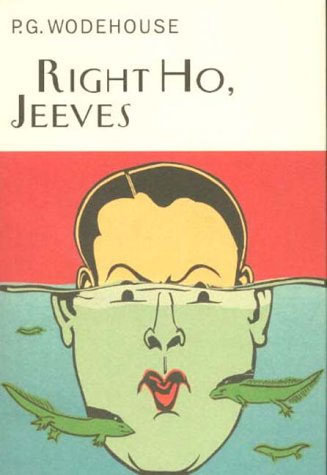 The second tells of life at Blandings Castle and its owner, Lord Emsworth and, not least, his multi-award winning sow, Queen of Blandings. A common theme would be young relatives falling deeply in love with, according to the family, unsuitable people and therefore interned at Blandings, in the hope that the healthy country air to get the young to forget his or her sweetheart. Things turn out well, as always with Wodehouse, for young people, sometimes with the help of Lord Emsworths brother Galahad, Uncle Gally, who is the Lord's total opposite when it comes to sorting out issues and resisting the many, strong-willed sisters.
In addition, the Mulliner stories, told of a veritable Mr. Mulliner at Angler's Rest, Eldest Member's golf stories, books of Psmith (the P is silent, as in Psalm,) the stories of Stanley Featherstonaugh (pronounced "Fanshaw") Ukridge. (IN pasing can be mentioned that there was a person named Featherstonaugh in an English detective story on television, which gave the translator headaches. When the players spoke about this person they called him Fanshaw and had it then been Featherstonaugh in the subtitle not many would have understood who was referred to, so the translator speedily named him Fanshaw!) There are also a few books on the Right Honourable Frederick Altamont Cornwallis Twistleton, 5th Lord of Southport (Uncle Fred). A few books are about other members than Bertie in the Drones club.
Everyone has their personal favorites, but the books that always seem to be at the top of the popularity list are the stories about Jeeves, followed by the Blandings chronical, then Uncle Fred, followed by Psmith.
Some like the Mulliner stories best, because they are set in different environments, ranging from vicarages on the English countryside to the earthquakes in San Francisco.
In addition to these novels and short story collections, there are many one timers, i.e. characters Wodehouse did not return to.
Wodehouse wrote, for instance in the Mulliner, stories set in Hollywood. He makes fun of certain phenomena in the absurd film shoot situation, including what could happen (happens) at a movie conference. When a director comes with a proposal, the people called the Yes sayers, say "yes", after which the group called Nodders "nod". According to people familiar with the this world not much has changed since the days of Wodehouse. When he lived there, he said in passing to a reporter, he had never earned so much doing so little, leading the economists to take control of the shoots instead of the film mogules.
He wrote four autobiographies-Bring on the Girls, Over Seventy Performing Flea and America, I like you.
He also wrote poetry that was published with the title the Parrot and Other Poems. In The Complete Lyrics of P.G. Wodehouse, all of his musical contribution are published.

For a detailed bibliography of Wodehouse's Swedish publishing, please visit http://www.wodehousebibliografier.n.nu/bocker