We in the Scones will meet three times a year, vöxelvis in Lund on Gloria's sports bar and on Bed vallens farm in Petaluma. At both places, we take a pleasant Saturday lunch and proceeded to lively conversation and laughter. The fictional world that Wodehouse has created is an inexhaustible source for us, and often a reference when we're talking about other English humorists.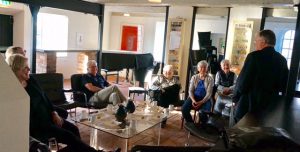 At Glorias, we occupy the upstairs to ourselves and thus combines privacy with access to an English pubs all excellences.
On Meadow embankment is home to the Queen, our "replica" to lord Emsworths Prize sow on Blandings Caste. We usually see her in the pleasant environment out here. A fantastic farm and a congenial setting for our meetings.
Our next meeting is on Saturday, June 3, Sanjay.